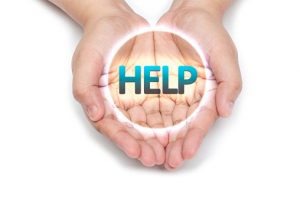 An emotional reunion occurred recently when a U.K. man was able to track down the stranger who helped him at a dark time in his life. The U.K. man had been having suicidal thoughts and was about to jump off of the Waterloo Bridge in London.  He had been diagnosed with schizoaffective disorder and was concerned that recovery would be difficult.  When standing on the end of the bridge, however, he heard a man's voice behind him.  The man asked him to go for coffee and talk.
The simple invitation made all the difference, and the U.K. man now describes his life as wonderful six years later. He began a campaign to find the man who saved his life, and the two met up recently.  The wonderful story shows that sometimes it takes just one person to reach out and prevent a death by suicide. Unfortunately, people experiencing suicidal thoughts hide them from those closest to them and never get the help they need. Recognizing signs of suicidal thoughts can be difficult for family members and friends, although mental health professionals should be trained to identify red flags; most aren't.
Two-Thirds of those in America who contemplate suicide are not under the care of a mental health clinician.  The goal is to get all folks needing mental health into competent care.  Competent care is the challenge.  Graduate and some medical schools are not properly training their students on managing and accessing patients at risk for suicide.  Licensing agencies are not properly testing new clinicians on treating suicidal patients.  Consequently unless the clinician learns by self-study how to manage their patients or the employers of the clinicians insure proper training has occurred, the at risk patient will not receive the care he or she needs.
Those who lose loved ones due to death by suicide may be able to take action against mental health counselors who failed to provide the necessary help or to take action to stop a death by suicide.  Contact a suicide attorney at the Law Offices of Skip Simpson to speak with a lawyer who can help.
Reaching out to Prevent Death by Suicide
As the Huffington Post reports,  the man standing on the edge of the Waterloo Bridge in London had been unable to tell his friends or his family members about his intentions. He describes being afraid of his suicidal thoughts and feelings and being unable to vocalize them to anyone.
When the total stranger came up behind him on the bridge, however, the kindness made an impact.  Instead of jumping, the man turned around to see his face and hear the simple message that things could get better.
The good Samaritan listened to his explanation of how he was feeling, and eventually this was enough to get him to step back off the ledge and agree to go for coffee. Police took him into custody once off the bridge, put him into an ambulance headed for Saint Thomas Hospital.  He never got to say goodbye to the good Samaritan or to thank him, until he found him on the Internet and they were able to reunite.
The happy ending in this story will hopefully help to inspire others to get involved and offer help even to strangers who are struggling. Perhaps the story could also make a difference in the lives of someone with suicidal thoughts.  Like the man in this story, many people with suicidal thoughts cannot or will not tell their closest family members. The important thing is that someone, even a stranger, notices and listens.
How can family members learn what suicidal risk factors to look for in their loved ones?   The book "The Suicide Lawyers: Exposing Lethal Secrets" by CC Risenhoover is the perfect choice. Risenhoover interviews Skip Simpson who outlines his experiences in years of teaching and litigating about suicidal patients.
A suicide attorney at the Law Offices of Skip Simpson can take action against mental health providers. Call (214) 618-8222 or visit www.skipsimpson.com to schedule a consultation.