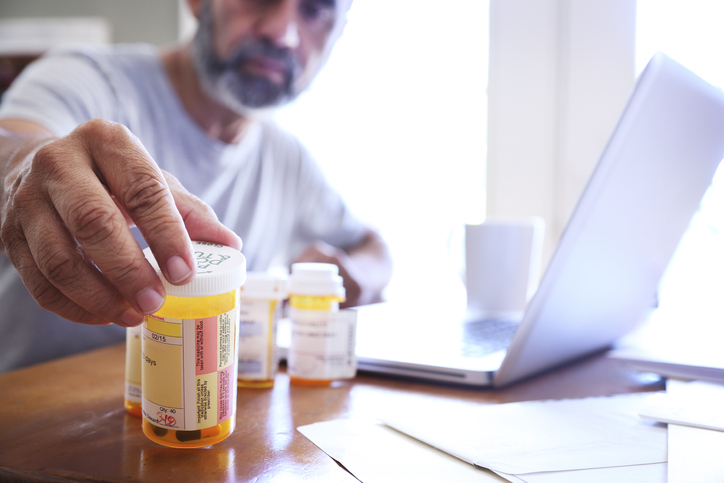 Propecia (also known as finasteride) is a drug that is used to treat male pattern hair loss, particularly on the vertex and anterior areas of the mid-scalp. It's also used to treat symptoms of benign prostatic hyperplasia. According to RxList, it belongs to a class of drugs known as 5-Alpha-Reductase Inhibitors.
Some of the side effects listed by RxList include breast lumps, pain, tenderness and discharge. It also lists sexual complications as common side effects. The site counterintuitively mentions the risk of depression, but researchers in a recent study have dug deeper into the psychological side effects linked to Propecia.
The link between Propecia and suicide
Researchers from Brigham and Women's Hospital in Boston examined data from VigiBase (The World Health Organization's global Case Safety Report database) pertaining to drug safety reports from more than 150 countries. They discovered that suicide ideation among men ages 45 and younger who used Propecia increased significantly since 2012. Approximately 356 reports of suicidality and nearly 3,000 reports of psychological side effects were reported. The same side effects were not reported among older Propecia users who were prescribed the drug to treat prostate issues. The study was published in The Journal of the American Medical Association on November 11, 2020.
Dr. Quoc-Dien Trinh is a senior researcher from the division of urologic surgery at Brigham and Women's Hospital. According to Trinh, there is currently no clear explanation as to why researchers are seeing an increase in suicide ideation among young male Propecia users. Researchers speculate that the link between the drug and suicide risks may be due to:
Biological factors that increase the risk of mental health issues and suicide when coupled with Propecia.
Media attention and heightened awareness of the drug's psychological effects that have led to a rise in reports of adverse events.
Researchers find more potential links
Dr. Michael Irwig from the division of endocrinology at Beth Israel Deaconess Medical Center in Boston links the psychological effects of Propecia in young men to sexual side effects. The reason for this may be a loss in sexual function in younger men, which can result in complications with dating and relationships.
"Sexual dysfunction in younger men can result in depression and, in a subset of these men, suicidal ideation," said Irwig.
Abdulmaged Traish is a professor emeritus of urology at Boston University School of Medicine. He believes that Propecia adversely affects the central nervous system in young men, which leads to depression and the risk of suicide. Traish argues that since hair loss is a non-life-threatening condition, taking Propecia "comes with a high price." For this reason, patients should be made fully aware of the potential psychological side effects before taking this drug. In addition, Traish believes that a warning should be labeled on the drug by the U.S. Food and Drug Administration highlighting the potential psychological risks. Currently, no such warning label exists on Propecia packages.
"Physicians should have a frank, open discussion with the patient about the potential adverse side effects of the drug," said Traish. "If the patient still wants to take it, it's OK, but at least tell him, honestly, this is what we know."
Why screening is critical
Researchers haven't yet concluded that there is a direct link between Propecia use in young men and suicide ideation. But studies such as this outline the importance of screening patients for suicide risks in medical facilities before prescribing certain medications. The Law Offices of Skip Simpson have listed dozens of medications that have been linked to suicidal thoughts and behaviors in patients. If a patient exhibits any signs of depression, anxiety, mental or emotional trauma, or suicidal behavior prior to treatment, medical professionals have a duty to act accordingly. If they fail to uphold their duty of care and a patient is harmed as a result, they should be held accountable.
The Law Offices of Skip Simpson have seen the devastating consequences of negligence in medical facilities. We have seen patients severely injured after attempting suicide and families mourn the loss of a loved one. That's why we're dedicated to helping victims and their families get the answers and justice they deserve. Our experienced and compassionate legal team serves clients all over the United States. There are no upfront costs for our legal consultations or services. We'll sit down with you, discuss your matter and go over your legal options. Contact us online or call us to find out what we can do for you.