When we send our children off to school in September, we don't expect every day of this new year to end perfectly. We expect them to sigh and grumble about a teacher or assignment. We expect complaints. But sometimes, those complaints are really cries for help. Bullying at school is far too common, despite multiple programs and training sessions that hope to turn kids around.
The Law Offices of Skip Simpson is fiercely dedicated to seeking justice for those left behind after a victim dies of suicide. These deaths and tragic losses are preventable, and more must be done to hold involved parties accountable for negligent or harmful behavior that has ended a life. Thankfully, one law has been introduced that may help. The bill is named in memory of David Molak, a 16-year-old student in San Antonio who died from suicide after excruciating amounts of online bullying. David's Law hopes to save lives by holding bullies accountable. Starting September 1st, cyberbullying in Texas schools is now illegal.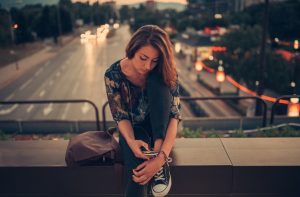 No Escape For Today's Youth
These days, almost every child has access to the internet, text messaging and/or social media. This means that even after the school's doors are shut, bullies can still access their targets on a cell phone, tablet or laptop. Cyberbullying is brutal. As it stands, 15% of school absenteeism is directly related to fears of being bullied at school.
Schools have been accused of not taking enough preventative action, or indeed action at all when it comes to dealing with bullying. Recently, a 12-year-old cheerleader suffered extreme amounts of cyberbullying up until her life ended in June. Her mother cited Snapchat, texts and Instagram as just a few of the platforms used to harass her daughter. However, the school filed no harassment or bullying reports, even though the student's mother contacted them about the bullying when it began at the beginning of the year.
David's Law Brings Hope
David Molak, a Alamo Heights student, was a high achiever, close with family, and an active Eagle Scout. He was also the target of fierce bullying. It crushed his spirit, and he even transferred schools to try and avoid the bullying, but that only lasted a month and the damage was already done via a group text set on ridiculing and mocking David. He died by suicide soon after his transfer. His family was not quiet. A bill was put into action and passed in his honor. Built to take action against cyberbullying, which was previously not a targeted cause for concern, "David's Law" targets school districts levels of responsibility as well as the definition of bullying.
Cyberbullying is defined as bullying via an electronic device such as phone, computer, camera, messenger apps, texts, social media platforms and websites. Examples include:
Creating fake profiles of students
Gossip and harmful rumors spread by social media
Spreading embarrassing pictures of a student taken without permission
Hurtful and menacing text or instant messages about someone
The Texas Education Code defines bullying as an action or pattern of behavior against a student that "exploits an imbalance of power and involves written or verbal expression, expression through electronic means or physical conduct." Physical harm certainly falls under this definition, but so does any severe and persistent behavior that disrupts education for the student and harms their rights. Bullied students often miss school to avoid their tormentors, interrupting their education.
This bill does not apply to workplace bullying, only to:
Bullying on school property
During a school activity on or off school property
On a school bus
In addition, off-campus cyberbullying is covered if it:
The act disrupts a student's access to education; or
The act disrupts activities related to the school, such as class or a sponsored activity or trip.
School Districts must be held to higher standards
In order to protect the lives of students, schools must acknowledge and address bullying problems as they arise. Lack of attention, and intervention, can easily lead to death. David's Law requires the inclusion of cyberbullying in schools' individual policies as well as implementing policies that:
Stop a student who is the victim of bullying from being punished when they have acted in self defense
Implements greater discipline for bullying a disabled student
Prohibits action retaliating against a person giving information about bullying
Making a way for students to anonymously report bullying incidents
And more
Parental notification is also written into the law. The involvement of aware parents is crucial to supporting a bullied student, and provides a larger aid network for them. With this law, cyberbullies can  face expulsion from school and even jail time. Restraining orders may also be granted.
Hope for Students
David's Law is an incredibly important and necessary part of keeping students safe. Starting this September, bullies will have to think twice before terrorizing other students. In 2012, 88% of social media users in their teens have seen someone be cruel to another user, and 1 in 6 parents knew their child has been bullied. With how far technology has advanced in the past 5 years, we can only imagine the future of those statistics. And with David's Law in place, we can only imagine how they might fall.