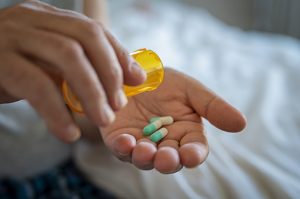 Predicting suicide ideation is a critical precursor to providing intervention and treatment to at-risk individuals. In patients who suffer from depression and other disorders that impact mood, antidepressants are often the standard method of treatment.
Antidepressants have the potential to make matters worse, however. In 2004, the U.S. Food and Drug Administration (FDA), prompted a Black Box Warning on selective serotonin reuptake inhibitors (SSRIs) that acknowledges the risks of suicidal thoughts in children, teens, and young adults.
Patients who are treated with antidepressants should be regularly screened for suicide ideation through follow-ups. The results of recent research conclude that prediction may be possible.
Identifying treatment-worsening suicide ideation
Doctors may soon be able to identify suicide ideation in patients receiving antidepressant treatment, according to a study in the Journal of Clinal Psychiatry.
The study analyzed data collected from 2007-2011 involving 237 patients ages 18-75 with major depressive disorder (MDD). Patients in the study received either 60 mg of duloxetine (an antidepressant drug) or placebo.
Researchers examined the link between treatment-worsening suicide ideation (TWSI) and clinical and biological factors.
TWSI involved a 1-point increase on the Montgomery-Asberg Despression Rating Scale (MADRS) item 10, which identifies suicidal thoughts.
The MADRS is a ten-item questionnaire used by psychiatrists to evaluate a patient's level of depression. For example, zero points indicate that a patient is happy, whereas six points indicate that a patient is at risk of dying by suicide.
Researchers zeroed in on item 10 over the course of eight weeks while assessing suicide ideation. They then assessed overall depression severity by adding up total scores from all items found in the MADRS. In addition, they assessed anxiety severity by using the Hamilton Anxiety Rating Scale and a familial psychiatric history questionnaire.
When assessing from baseline, researchers used blood samples to analyze a link between or overlap of messenger RNA (mRNA) and microRNA (miRNA) – both of which are genetic codes transcribed in patients' DNA. They were then able to create TWSI predictive models based on clinical factors, mRNA, miRNA, and combined factors.
Nearly 10 percent of patients who received duloxetine exhibited TWSI at baseline analysis, however, TWSI was not predicted in patients who received a placebo.
Urging healthcare providers to do the right thing
Signs of depression and suicide ideation aren't always clearly exhibited. The stigma placed on individuals who are at risk of dying by suicide has enabled a culture where individuals may go to great lengths to mask their suffering. Thus, identifying suicide ideation, and even depression, may be impossible in some cases. The signs may only become apparent after a person has attempted suicide or lost his or her life.
As researchers continue to identify prediction methods, our medical system is inching closer to effective solutions that could save lives. It's critical that doctors and other medical professionals are properly trained to identify suicide risks and proceed with proper intervention measures.
The Law Offices of Skip Simpson has been closely watching emerging medical developments and we urge hospitals and doctors to do the right thing. If you have lost a loved one to suicide because of someone else's failure to provide intervention, contact us online to discuss your matter. We're dedicated to representing families of mental health patients and holding negligent parties accountable.