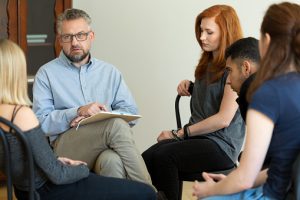 According to the CDC, suicide rates have increased in every state across the US except for Nevada from 1999 to 2016. In 2016 alone, almost 45,000 Americans as young as 10 years old lost their lives to suicide.
Mental health statistics
According to National Institute of Mental Health (NIMH):
In 2016, roughly 44.7 million adults in the US aged 18 or older (18.3 %) suffered from mental illness. However, only 19.2 million (43.1 %) received treatment.
Serious mental illness affected 10.4 million adults in the US aged 18 or older (4.2 %), about 6.7 million (64.8% ) of whom received treatment.
Mental illness also affected these adult age groups:
1 % of adults aged 18-25, 35.1% of whom received mental health treatment
1 % of adults aged 26-49, 43.1% of whom received mental health treatment
5 % of adults aged 50 and older, 46.8% of whom received mental health treatment
Roughly 49.5% of adolescents in the US aged 13-18 suffered from mental illness. Among the age groups, mental illness affected:
3 percent of adolescents aged 13-14
3 percent of adolescents aged 15-16
7 percent of adolescents aged 17-18
Suicide prevention starts with education and early intervention
New York and Virginia have tackled the mental health epidemic through education. Both states have enacted laws mandating that mental health education be implemented in the school system. Frankly, it is disturbing to know other states have not taken the same or similar steps.
The New York law will require that mental health is included in curriculums in grade levels K-12. The law was passed and signed in 2016 but did not take effect until July 1, 2018. The law is intended to bring awareness to the issues and risks faced by those who suffer from mental and emotional complications. Those for the law believe that mental health education can prevent substance abuse and suicide.
Glenn Liebman, chief executive officer of the Mental Health Association in New York State, explained why mental health education is so important: "If you look at the statistics about mental health-related issues, it creates a very compelling case as to why this is so important."
Virginia's law (Senate Bill 953), which also took effect on July 1, 2018, will require that mental health topics be included in physical education and health for 9th and 10th grade students.
With greater implementation of mental health education into New York and Virginia's school systems, children who suffer from mental illnesses may have a myriad of resources for early intervention.
Recognizing the warning signs and taking action
The National Alliance on Mental Illness (NAMI) identified the early onset and warning signs of mental illness in children. About half of lifetime mental illness starts in adolescents around the age of 14, 37 percent of which are at risk of dropping out of school.
The warning signs that a child may be suffering from mental illness may include:
Sadness and socially withdrawn behavior that persists for more than 2 weeks
Self-destructive or suicidal intent
Erratic and compulsive risk-taking or unruly behavior
Unpredictable fear and anxiety which may cause physical symptoms: rapid heartbeat and shortness of breath
Refraining from eating, eating too much, anorexia or bulimia
Intense anger, sadness or unstable moods
Drug or alcohol abuse
Disruptions in sleeping patterns, irritability and other behavioral changes
Difficulty in staying focused and academic problems in school
Fears and worries that affect daily life and impair social function
These early signs of mental illness are not to be ignored. Bringing awareness to students, teachers and parents can make a difference in preventing substance abuse, destructive behavior or suicide. If you notice these warning signs in your child, NAMI suggests talking to a pediatrician, getting a referral to a mental health specialist, becoming active with your child's school, and connecting with other families. A healthy network of social links not only keeps parents informed of their child's behavior, progress, and in a support network should they need it.
Justice is possible
The new laws passed in New York and Virginia may provide a ground-breaking basis for suicide prevention, but more needs to be done. It's important that the perception of mental health changes in our society. Children who may otherwise feel overwhelmed and hopeless may receive the support they need from educators and their peers.
But when responsible parties fail our children, they can be held accountable for negligence. Losing a child or loved one to suicide is a devastating experience. That's why you should speak to an attorney experienced in helping families of suicide victims seek answers and justice.
Contact us today for a free consultation. We can help.