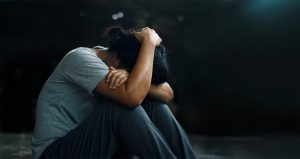 Knowing what to do when dealing with a family member or someone else considering suicide can be overwhelming for anyone involved. Unfortunately, this issue doesn't seem to be going away anytime soon. Recent data from the Centers for Disease Control and Prevention (CDC) shows a continued increase in suicide rates over the last 18 years.
That's why organizations like the Suicide Prevention Resource Center are constantly searching for solutions aimed at preventing people from dying by suicide. One of the latest approaches includes talking about "lethal means counseling," or safety in a health care setting.
What is lethal means counseling?
Elly Stout, director of the Education Development Center for the Suicide Prevention Center, recently wrote about the importance of reducing the lethal means in health care settings as an effective suicide prevention method.
Lethal means are anything commonly used by someone to end their life, such as medications or guns. Stout wrote that there's "significant evidence of effectiveness" when it comes to "lethal means counseling in health and behavioral health care settings."
"It's up to all of us to promote these conversations as a critical part of safer suicide care around the country," Stout wrote.
In addition, lethal means counseling should be a "key part of safety planning, which is a collaborative process between patients or clients and clinicians to create a written list of coping strategies and supports to use when suicidal thoughts arise," Stout wrote.
What is an effective safety plan?
Along with removing lethal means from someone seeking help for suicide prevention, many health care workers and clinicians who deal with such issues believe that creating a safety plan can be an effective tool for someone at risk of suicide.
The Suicide Prevention Resource Center created a video outlining the importance of creating a collaborative safety plan. Such a plan should "identify specific behaviors, actions, and situations that help them stay safe," according to the center's website.
"It needs to be clear to the patient that this is something that's being done collaboratively with them," Vince Watts, MD, MPH, director, VA Interprofessional Fellowship in Patient Safety, VA National Center for Patient Safety, said in the video. "It's really them identifying things that help them and then the staff trying to write those down, maybe give hints from their prior experience with other patients. But the patient safety plan is not something the staff would come up with. It's something that the patient comes up with."
Health care facilities need to take suicide prevention seriously
Attorney Skip Simpson has seen over and over again what happens when medical facilities do not take proactive steps to prevent deaths by suicide. When patients come to a hospital, the first priority should be to make sure they are in a safe environment. Removing lethal means is a critical step in that direction.
Seeking help for suicide prevention is difficult enough. The least hospitals can do for patients who do so is to remove risks from their environment.