The Impact Death by Suicide Has on Those Affected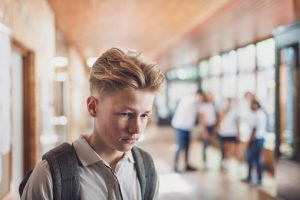 According to the Centers for Disease Control and Prevention, the suicide rate in the United States has increased by 33 percent from 1999-2017 and suicide takes an average of 40,000 lives per year. The rate among children and teens, however, is even higher.
The CDC said death by suicide among children ages 10-17 his increased by 70 percent between 2006-2016.
Following a slew of deaths by suicide among children – including an eighth-grade boy and 8-year-old boy from Cincinnati – adolescents are being taught how to identify the warning signs of suicide in their health classes.
Cincinnati Public Radio's Cincinnati Edition features an audio interview with three school officials: Culture and Safety Manager Dr. Carrie Bunger of Cincinnati Public Schools, Public Information Officer Tracey Carson of Mason City Schools, and Assistant Professor Dr. Jennifer Wright-Berryman of the University of Cincinnati College of Allied Health Sciences School of Social Work – all of whom are familiar with the devastation of suicide.
The ripple effects
Suicide among children and teens can devastate school peers, as well as an entire community. One concern expressed by school officials is contagion. It's a "ripple effect" that can lead to more than one suicide within a community. According to U.S. News & World Report, teens ages 15-19 are the most susceptible to contagion after being exposed to suicide.
In the interview, Carson discusses the contagion effects of suicide:
"There is no worse day than the day that you come in and you call your staff together to share that your student has died by suicide. It's just truly one of the worst things that happens in a school community, but it ripples out, because when we have a young person who dies by suicide, it doesn't just end at school. It impacts an entire community."
Providing social and emotional support to grieving students
When addressing death by suicide, school officials must be explicit about what happened, while accommodating the emotional needs of those who are affected. It starts with identifying those students who are grieving and prompting teachers, counselors, and other school faculty to provide support.
It is important that school districts avoid prolonged memorials of a student who died by suicide.
"To impact contagion, to romanticize, and for those students, for the living, that may be at that cusp of 'I'm feeling a level of despair'," Bunger said. "It is something that we have been very mindful of in terms of honoring the living and making sure that we are providing proactive strategies to help support those students that are with us and coming through the school walls."
Identifying the signs and providing early intervention
According to Wright-Berryman, there are several suicide red flags school faculty and students can watch out for. The primary cause of suicide among children and teens is the feeling of being excluded and isolated.
The signs often include:
Sudden behavior changes
Sudden substance abuse
Social isolation
Academic failure
Academic success (in some cases)
Social media activity that raises red flags
Giving away prized possessions
Suddenly quitting a sports team, musical activity, or other extracurricular activity
Talking about suicide or self-harm
According to the school officials in the interview, children and teens who are suicidal are most likely to reach out to their peers rather than adults. Giving students the tools they need to identify the warning signs and to refer their peers to adults is critical.
Part of the problem among children and teens, as well as in society at large, is the cultural view of intervention. There seems to be a social stigma surrounding mental health that deters many individuals from seeking help.
We expect our school systems and communities to promote a culture of suicide awareness and early intervention. If the signs are there, it's up to responsible parties to intervene, if they can. They should be held accountable. That's why it's important for a child's loved ones to contact suicide lawyer Skip Simpson for a free consultation.