For Pain Awareness Month, Be Aware of Pain's Link to Suicide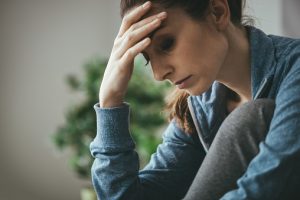 So many people at risk of dying by suicide are told "it's all in your head." Those words are never true, and they're never helpful – but they're perhaps never worse than for people living with chronic pain.
It's a prevalent problem. The National Center for Complementary and Integrative Health (NCCIH) reports that 25.3 million American adults suffer from chronic pain. And the unfortunate truth is that people who are living in pain every day are at elevated risk of dying by suicide. A study in the United Kingdom found that nearly one in 10 deaths by suicide occurs in people with chronic pain.
It's not just about the pain – it's the impact on a person's life
You might imagine that someone with chronic pain might die by suicide because suicide is a final means of making the pain stop. While there's some truth to this idea, the pain per se is only part of the story. To see the full picture, we have to examine the full impact of chronic pain on a person's life.
"It's a matter of what chronic pain takes away," writes Erin Midgol of The Mighty. Chronic pain can damage friendships and family relationships because the person with pain is not always able to spend time with others. It can restrict hobbies and activities, limiting enjoyment of life. For many people who live with pain, even getting out of bed in the morning is hardly a guarantee.
Often, people with chronic pain are failed first by the healthcare system. They may be shuffled from doctor to doctor before someone finally takes them seriously. Even then, it can take months or years to find a treatment plan that will make the pain bearable – and even then, the method that works may not be covered by insurance. Meanwhile, chronic pain can make it difficult or impossible to work and earn a living – and many conditions that cause pain do not qualify for disability benefits.
For some, the stigma can be life-threatening
Mental health should be thought of as part of our physical health, and taking care of it should be a priority. However, many groups suffer under the "it's all in your head" stigma and go without treatment for whatever ailment may be the source of their pain. A staggering 25% of Americans experience chronic pain, and a large number of them are women, possibly due to a high number of autoimmune conditions that affect them more than men.
Members of the LGBT community, who already have a mind-blowing rate of depression and other devastating mental health concerns, may avoid doctors due to fear of discrimination or misgendering. People of color may suffer cultural stigma, particularly men, who tend to not seek out mental health treatment as frequently as their white counterparts.
Pain is not treated on a scale of believability. The way it is treated today echoes past centuries where women's pain was treated as hysteria, and little was done about any of it. The physical and mental anguish leaves many patients wondering if their pain is simply imaginary, isolating themselves, and severely affects their mental health. We must do better. We must change.
We need to reform our attitudes toward people with pain
The opioid crisis, while certainly a major public health problem that needs to be addressed, has had the unfortunate side effect of exacerbating toxic attitudes toward people with chronic pain. People with chronic pain endure the constant message that they're abusing their medications – when in fact they're taking them responsibly.
Beyond that specific issue for this moment in history, people with chronic pain face generations of ingrained messages that they need to "toughen up." They're used to being dismissed by society, by doctors, and even by friends and family. It's no wonder that when mental health issues co-occur with chronic pain, they're hesitant to seek help. (Not to mention, seeking help for mental health issues carries its own stigma.)
It's time to break this cycle and change the way we think about chronic pain. There should be absolutely no shame in seeking help for physical and mental health issues alike. We have the means and the capacity to take care of anyone in need of treatment for chronic pain. As we mark the end of Pain Awareness Month, let's be reminded that the stakes couldn't be higher.