Addressing the construction industry's high rate of suicide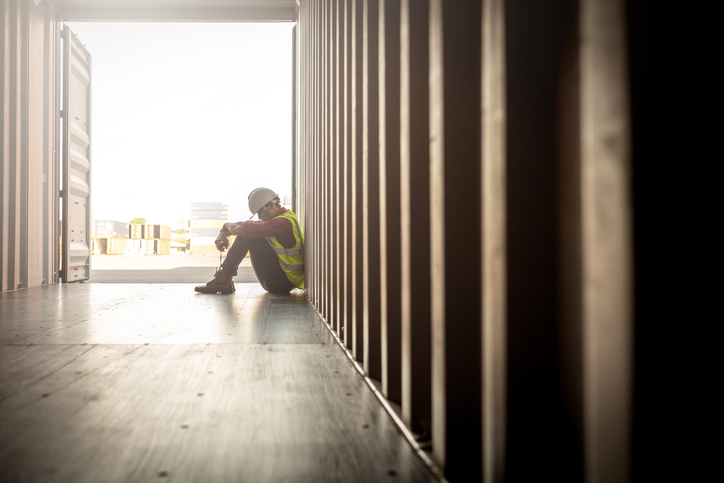 According to the Centers for Disease Control and Prevention (CDC), construction and mining have the highest rates of death by suicide compared to all other industries. For working adults across all industries, the rate of death by suicide has increased by 34 percent from 2012-2015.
A construction worker's death by suicide five years ago spurred change in a Salt Lake City construction company, according to NPR. On his last day attending work, he reportedly gave away his personal hand tools. His co-workers later realized that his actions were oddly generous. When they got around to check on him, it was too late.
Giving away personal possessions is one of the leading signs that a person is considering suicide. Many people may see it as a generous act rather than a red flag. Others may suspect that something isn't right and ask questions. A suicidal person with no interest in seeking help may tell concerned friends, family, and co-workers that he or she doesn't need the personal possessions anymore.
"It's a huge sign, but we didn't know that then," said construction superintendent Michelle Brown. "We know it now."
Mental health: An on-the-job priority
The 1,500 employees who worked for RK were shaken up by the loss of their colleague. The man's death marked the third co-worker suicide that Brown has endured over 31 years of working in construction.
RK has since established a model for suicide prevention in the construction industry, involving 24-hour access to counseling services, lenient leave policies, manager crisis training, and other methods.
"If somebody didn't show up in the past, we'd be like, 'You've got a job to do — get in here,' " said RK co-owner Jon Kinning. "We've just changed our tone and our culture. I talk about mental health nearly every time I have a group of employees."
RK addresses mental health a few times each week through a method called toolbox talks. This involves staff announcements and stretching. Some workers have objected to bringing up mental health. They claim that it brings back unwanted memories.
"It's more important for the greater good to talk about mental health issues," said Kinning.
About 15 suicide deaths were prevented within the company since 2014, as workers utilized the therapy and other benefits afforded to them. Other construction companies are now implementing the same approach modeled by RK.
The challenges of suicide prevention in the construction industry
While this approach to suicide prevention may save lives in the construction industry, it's not a one-size-fits-all. Some challenges may be posed by substance abuse, particularly opioids prescribed to injured workers. In addition, many construction workers are military veterans, some of whom suffer from post-traumatic stress disorder.
Brown, who spent four years in the Air Force, noticed some emotional changes in a co-worker (who was also a vet). He would be unresponsive in some cases, and extremely agitated in others. After the co-worker didn't show up for work or call in sick one day, she suspected that he may be suicidal. After speaking to him on the phone, Brown drove to his house. She found him drunk with a firearm in his hand.
She immediately soothed him with the words, "You're loved. You're needed." She then contacted a therapist and set him up on medical leave. Brown and the man both remain friends to this day, despite him leaving the company.
"It took me back to a time in my life where, if somebody hadn't reached out to me, then there's a possibility I wouldn't be here," said Brown. "I had no desire to be on this earth anymore. I didn't think it was worth it. Why bother? And somebody took the time to notice my behavior and reach out to me."
RK supervisor Nate Lewis also recalls struggling with suicidal thoughts, anxiety, and depression, which was only worsened by being overworked. He was able to overcome this struggle by seeking help. He now urges his co-workers to do the same.
During one morning toolbox talk, an employee named Cal came forward and admitted to having a suicidal past.
"I dealt with maybe six years of attempting to take my life," he told the group. "The last time that happened was last year in July."
Cal cites not being completely honest with his therapist, being openly gay, and not feeling welcome in the construction industry as his primary struggles. After coming forward and getting help, he said the last year of his life was the happiest he has experienced as an adult.
There should never be any shame in seeking help. The social stigma surrounding mental health has put far too many lives at stake. That's why the suicide attorneys and counselors at The Law Offices of Skip Simpson applaud the efforts taken by RK and hope to see a trend of suicide prevention in the workplace.
Our renowned and compassionate legal team represents families of people who have lost their lives to suicide. If you have lost a loved one, we urge you to reach out to us to discuss your legal options. You can contact us online or call us at (214) 618-8222.