Springtime Suicide
The winter blues are a false advertisement when it comes to suicide statistics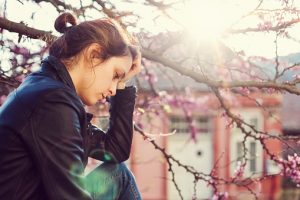 For as long as we can remember, wintertime has been pictured as the bleakest season. Indeed, Seasonal Affective Disorder (SAD) is often triggered by the dark and cold times. However, the popular myth that suicides are worst around the holiday season simply is not true. Seasonal landscapes don't always line up with emotional ones. Time moves slower in spring and summer, and those plagued by mental illness may experience a type of melancholy that goes beyond simple summer nostalgia. Mental illnesses are real, and they can end lives. Without proper medical, therapeutic and interpersonal monitoring, patients are at risk of dying by suicide.
The Law Offices of Skip Simpson is dedicated to finding justice for the victims of suicide and the families left behind by their tragedy. We have years of experience holding negligible parties accountable for their actions that, if prevented, could have kept a mother, father, brother, daughter or son alive.  Families and loved ones should not have to worry about whether those they care about will survive the spring.
Seasonal change and mood disorders
Studies dating as far back as the 1800s show that suicides peak in the spring, and are actually lowest during the wintertime. This has puzzled scientists for decades. Most people will experience springtime highs and wintertime lows, but when the angle is taken from one of mental illness, everything is in hyperfocus. Springtime highs can mean manic or psychotic episodes, followed by earth-shattering bouts of depression.
People with mood disorders such as major depression, dysthymia and bipolar disorder are at extreme risk for triggers during the warmer months. Bipolar people, in particular, are more prone to mania (and its lesser form, hypomania) – an extreme, destructive elevated mood state that brings with it unhealthy behaviors and even possible psychosis. These states can even require hospitalization due to how disconnected the sufferer is from reality.
Delusions of grandeur may impair proper thinking, causing people with bipolar disorder to make rash and possibly life-threatening decisions like walking into traffic or jumping from heights, believing themselves invincible. Behaviors associated with hypomania and mania can include:
Spending too much money, extreme amounts in the case of true mania
Substance abuse
Risky behaviors, such as careless driving, sexual activity or fighting
Hallucinations
Delusions of grandeur – believing themselves to be infallible
Aggression and agitation
Short-term memory loss
A study showed that people with a history of prior hospitalization were at higher risk for suicide attempts and death by suicide, which is associated with bipolar disorder and major depression.
Springtime is a time for close monitoring
Improper suicide watch is a leading cause of death within inpatient facilities, and a lack of education among staff only adds fuel to the fire. Some patients at risk of suicide are only monitored every 15 minutes. This simply is not enough. Roughly 6 times a day, in "secure" inpatient units, suicide occurs under the watch of medical professionals. Already at high risk due to seasonal changes, those with mood disorders and other forms of mental illness deserve better.
Outside of facilities, the headlines' detailed suicides occurred in the spring, especially those of celebrities. Chris Cornell of the band Soundgarden was found deceased in his hotel room following a concert. While the loss devastated fans, it brought true attention to the issue: suicide in the springtime is too common to ignore. A study published in JAMA Psychiatry found that the risk of suicide increased with the number of daylight hours.
Those who were too physically depressed in the wintertime could feel energized by the increased sunlight, giving them the motivation to attempt suicide. Without proper monitoring by their care team and loved ones, these attempts could turn fatal. Healthcare providers should be at attention when the spring season comes about, and medication may have to be tweaked to accommodate a mentally ill person's needs.
We can help
There were 44,965 suicides in 2016 in the United States; approximately one third of those suicides occurred while folks were in health care.  Improper and negligent behavior in monitoring or treating those with mental illnesses can lead to death by suicide. Every small change we go through – such as a seasonal change – is magnified for someone suffering, and must be addressed.
Every day, the families and loved ones of victims of suicide speak out to obtain justice. We help them. If you or someone you know has lost a loved one to suicide, contact us today.