Too Little, Too Late
Patients at risk for suicide after hospitalization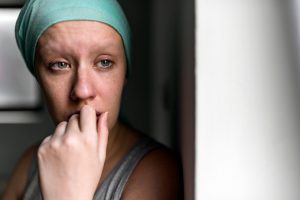 Inpatient psychiatric care treats and rehabilitates patients so they can return to life and live it fully, without the burden that mental illness imposed upon them. Mental health issues can be suffocating to those who suffer from them, preventing them from engaging in the day-to-day activities most of us take for granted. While outpatient therapy, medication and a strong support system have proven to be beneficial for those with mental illness, additional steps to ensure their wellness sometimes must be taken.
Psychiatric hospitalization is a double-edged sword. Reputable providers and facilities are often successful in stabilizing a patient's mental state and illness. But diseases run deep, and not all hospitals are created equal. Patients in such delicate conditions must be kept for the right amount of time, in the right care, not left to make it on their own afterwards. The Law Offices of Skip Simpson knows all too well what the consequences can be after hospitalization under poor care. And we demand justice for those affected by death caused by suicide where negligent health care can be proven.
When is it safe to go home?
Getting people with mental illnesses to a hospital is hard enough . We hug and kiss goodbye. We hope and pray that our loved ones learn strategies for dealing with life and can sleep through the night in the care of skilled medical providers. Psychiatric hospital stays can range from five to seven days, the average time most people stay.
Shorter inpatient stays seemed to carry the greatest risk for suicide attempts post-discharge. Fifty years of data synthesized in JAMA Psychiatry noted that the suicide rate of patients in the first three months post-discharge was 100 times the global suicide rate of 11.4 per 100,000 patients per year in 2012. Suicidal thoughts and behaviors also were reported 200 times the global rate. Years later, the suicide rate in the United States continues to increase, especially among the young population and marginalized communities.  But what factors lead to this startling figure? Declining numbers of beds, funding for psychiatric treatment and access to affordable follow-up treatment (including at-home care) have dwindled. A number of patients tend to be homeless, with little to return to and no supportive care.
Mark Olfson, M.D., M.P.H, wrote in an accompanying editorial that "transitions from inpatient to outpatient care are often poorly managed," and there is resounding truth in this statement. The strict routines and constant access to therapy and medical treatment are easily disrupted after patients are discharged. Other findings from this study include:
-The 90-day rate of suicide was twice as high for men as for women
-Psychiatric patients who received no outpatient care six months prior to hospitalization were at increased risk for short-term suicide
-Efforts aimed at suicide prevention were lacking
Information from patients with mental disorders with a high rate of suicide as their cause of death such as schizophrenia, bipolar, and major depressive disorder were included in the study, which left us all asking the question: "what can we do"?
Stigma is society's illness, and we aren't treating it
In 2016, there were 44,936 recorded suicides. According to the American Foundation for Suicide Prevention, there are 123 suicides per day. And for every death by suicide, 25 people attempted suicide. Where is short-term psychiatric stay in this sea of numbers?
The practice itself has negative associations, and some who are admitted have little choice or autonomy in their own healthcare. "Instead of being understood as a valid medical procedure, taking someone to a hospital because of disorders of the mind might sound to the patient as a defeat, a failure…and thus, returning to the community after a psychiatric admission can become a difficult task…" Noted one study from Psychology Research and Behavior Management.
Transitioning from a hospital setting to one outside the hospital may make the patient feel "burdened" by the weight of their own disorder, seen by society and rejected as a failure. Most psychiatric disorders are chronic, the study emphasizes, and hospitalization simply cannot cure them. A database from the Oxford Regional Health Authority area in Oxford, England found that 14,240 patients over the age of 15 had 26,864 psychiatric admissions. Out of these patients, 134 died by suicide within the year after they were discharged.
Where is our healthcare system failing our mentally ill patients? One commonly cited issue involved a "revolving door" of patients: those readmitted to psychiatric facilities within a year after their discharge date, often not by their free will. Giving a mentally ill person the control and autonomy they need to manage their condition is essential to their health, and their life. They simply cannot be fed medication and forced to sit down in groups. The personhood of each individual must be acknowledged. But, in a healthcare system where the number of beds is rapidly dwindling and compassionate staff are stretched thin, more work must be done to insure the health and well-being of patients.
Mentally ill patients need support
An involved, caring team of providers is essential to the treatment and rehabilitation of a psychiatric patient, and the quality of life for a person suffering from mental illness. Upon discharge, there often is little follow-up involved to guarantee the survival of a patient. Unlike other illnesses, psychiatric disorders are often swept under the rug; hospitalization is a taboo, and family and friends may respond to cries for help with "get over it, it's all in your head."
These hurtful messages often echo a cruel, inhumane portrayal of the mentally ill in society. They also often undo whatever progress was made within the hospital. Society must understand that the brain is a living, complex organ that can become ill and requires treatment.
Dissolving family structures were attributed to frequent hospitalization in the Olfson study, and among those patients with schizophrenia, medication noncompliance was a serious issue. Why aren't there more doctors, therapists and live-in nurses who can catch the suffering when they fall?
The meta-analysis of 50 years of data mentioned, conducted by Daniel Thomas Chung, of University of New South Wales in Australia, and colleagues, found that prevention efforts were lacking in hospital care. "Discharged patients have suicide rates many times that in the general community. Efforts aimed at suicide prevention should start while patients are in the hospital, and the period shortly after discharge should be a time of increased clinical focus," he observed.
The first three months after discharge proved to be the most vulnerable. What can be done to help a person suffering from mental illness stay on track? Recommendations include:
-Access to affordable mental healthcare
-Supportive loved ones who can aid in home wellness checks if they live alone
-An understanding society that normalizes mental health treatment
-Regular check ins with therapists and psychiatrists to ensure treatment is continuing
-Step-down programs, such as inpatient to intensive outpatient before full discharge
-Live-in nurses
-Compassionate, attentive hospital care
Justice must be found
Within those first three months to a year after discharge, too many lives are lost. Too many families and friends wake up to find their loved one is no longer with them, and it could have been avoided. Suicide is not a random act. It causes death from an illness that doctors and other medical professionals failed to treat appropriately and monitor after attempts at treatment. Understaffed, overworked hospital employees are constantly changing sheets on too few hospital beds. Medication prices are too high for too little effect. Health insurance often runs out before hospital stays are completed. Families and employers would rather see the mentally ill simply snapping back to "normal" instead of treating them with the compassion and care they deserve.
Too many parties fail to ensure the health and survival of the mentally ill. When death by suicide occurs after short-term psychiatric hospitalization, negligent parties must be held accountable for their actions or inaction.
Contact us for a free consultation if your loved ones have found yourselves searching for answers and justice.